Login
Log in if you have an account
Register
Having an account with us will allow you to check out faster in the future, store multiple addresses, view and track your orders in your account, and more.
Create an account
Grooving To The b-Vibe: Interview with Alicia Sinclair
09 May 2018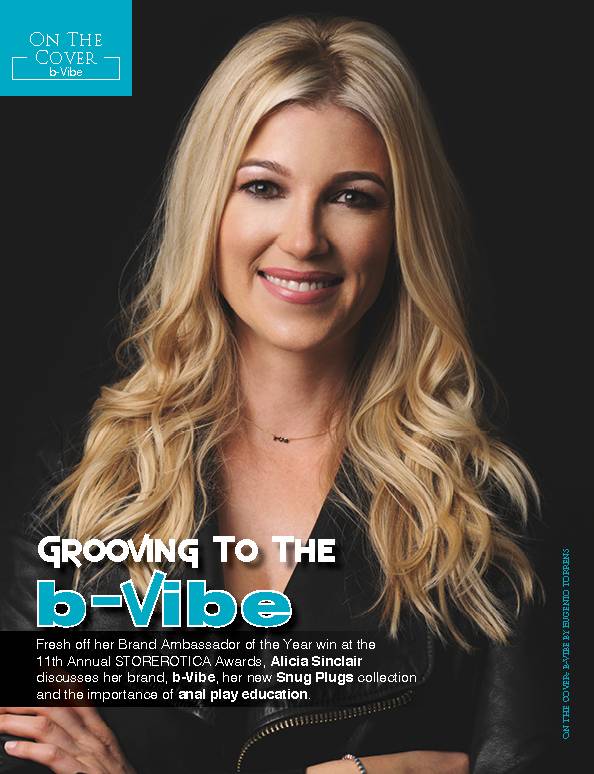 As Featured in StorErotica Magazine December 2017 Issue
Alicia Sinclair has been a pivotal figure in the ongoing relaxation of sexual attitudes as they pertain to anal play for everyone. Once thought to be strictly in the domain of homosexual play, figures suggest heterosexual couples are at least trying anal sex. While Sinclair obviously can't lay claim to being the singular reason behind that, she and her company, b-Vibe, are doing their part to destigmatize anal sex for anyone that wants to poke in and around the backdoor.
StorErotica: Can you go into detail about how your different products cater to users of varying levels—do you feel you've covered the spectrum of potential anal play users or is there a nice market out there still to be tapped into?
Alicia Sinclair: I think b-Vibe has done a great job of creating unique, rechargeable products that cater to different user types, preferences and functional requirements. The Snug Plug collection further expands the market by offering more innovation and by meeting the need for a different desired experience (body-safe, weighted plugs for long-term wear). However, there is more to anal play than butt plugs and anal beads, and we are already developing products that continue to broaden our selection and customer base.
We've spent a lot of time studying how people actually use anal toys and developing products that match those experiences. This means that each of our products is specifically designed to cater to use case and user, with the goal of making them not only more approachable, but more useful.
StorErotica: What was the inspiration for Snug Plugs?
Alicia Sinclair: The Snug Plugs are an innovative collection that caters to a combination of unmet needs in the anal play category overall. These plugs are a perfectly executed combination of long-wear comfort, weight and pressure sensation with an affordable price point. The Snug Plug collection features four progressively heavier, weighted butt plugs with a totally unique torpedo shape. The soft ridges of the plug stimulate the anal canal as they move inside the body. The body is more responsive to pressure and movement inside the anal canal, so Snug Plug's unique precision design and heft provide erotic stimulation as they slide along the inner wall of the bum.
Additionally, Snug Plugs come in designed, detailed packaging and include a convenient travel case. We also include not one, but two guides for anal play newbies or enthusiasts.
StorErotica: You've consistently made it a point to stress inclusivity and anal education with your branding. What educational tools have you created and made available to brick-and-mortar stores, and how have these materials allowed them to establish a premium anal play section in their stores and online shops?
Alicia Sinclair: The biggest hurdle regarding peoples' perceptions of anal play and their willingness to get involved is a lack of education and the resulting taboos. Through education (branding, marketing, etc.) I aim to eradicate those falsehoods via facts and advice that can apply to all types of users. To this end, we offer a variety of marketing, educational, and branding tools for retail stores and online shops.
For brick-and-mortar stores, we provide displays, testers, shelf talkers, brand and product education signs, and complimentary copies of our "Guide to Anal Play."
For online retailers, we've made fun and informative product videos and a wide range of educational articles as supportive content.
To really create a premium shopping experience in the anal play section, I always suggest that retailers merchandise the anal products with educational materials, include premium, medium, and lower price point products in their assortment, make sure they have testers so customers can touch and feel, offer lube samples as a complimentary item or even a gift with purchase.
Additionally, it's important that the staff feel they have enough education to talk comfortably about anal play. I always take the time to sit down with store staff to discuss the products and share info on the selling points and even the psychological aspects of shopping for butt stuff. I've even started to see many stores in North America merchandise b-Vibe anal products in their premium section, where customers are already shopping at a high-price point.
StorErotica: Have you found that most brick-and-mortar stores initially are receptive to an anal play section or a bit reluctant? In cases where they are reluctant, how do you persuade them about the benefits of having a premium anal play section?
Alicia Sinclair: Most brick-and-mortar stores already have an anal play section. In the beginning, when b-Vibe only had the Rimming Plug, some stores were reluctant to create a premium section within the anal play section. There aren't a lot of brands doing what we do, creating high-end, body-safe and highly functional toys that are still accessible.
However, b-Vibe now offers a family of products that appeal to a wide range of consumers. We have our rechargeable plugs and beads in multiple sizes, each with a unique function. Snug Plugs further enable retailers to create a premium section because the price point is very affordable, but the products are innovative. With a wide selection of products and prices, the b-Vibe collection looks amazing as a premium section.
StorErotica: From your perspective how has anal play grown over the last few years? To what do you attribute that growth?
Alicia Sinclair: I've noticed that there is a lot of interest from heterosexual couples. Especially as women are recognizing that the notion that "anal sex is something they do for men" is false and that they can have a lot of pleasure from the experience.
There also seems to be a wave of men combatting the rigid gender ideas of male masculinity. More "straight" guys are willing to try butt stuff. In general, there's a lot more information about prostate pleasure and I think people want to get in on trying it.
Mainstream press has been writing more about anal products and providing educational articles about anal play. We've been featured in Cosmopolitan, Allure, Refinery29, VICE, POPSUGAR, Women's Heath and many more. As a result, consumers have developed more of an interest and the topic is on the way to being destigmatized. In general, it seems that consumers are more accepting sex toys of all types as a part of a healthy sex life and desire products and that are well made.
StorErotica: Why do you think more heterosexual men and women are partaking in anal play? Do you think the number of anal players has actually grown, or that people are now being more upfront about it?
Alicia Sinclair: It seems people of all age groups are beginning to claim pleasure as a birthright. More people overall recognize that sexual wellbeing and experimentation is part of an overall healthy lifestyle. Anal play, which has traditionally been a super-taboo sexual act, is going through a revolution of sorts, as more people are comfortable with their sexuality in general. I believe the number of players has grown and will continue to grow. As we say at the office, "Anal is the new oral."
StorErotica: You've mentioned on your website that as a Certified Sex Educator, it was important for you to create a brand that offered comprehensive sex-positive information to your customers. I was wondering if you could expand on your philosophy and its importance?
Alicia Sinclair: I teach Anal Play 101 and b-Vibe product trainings on a weekly basis. You'd be surprised to know that even the people who sell anal products don't really understand why people enjoy them. This is one of the reasons I'm a huge advocate for education. In fact, the mission of b-Vibe is to provide sex-positive education, decrease stigmas, and elevate the anal play category. We do this through providing education to retailers and consumers.
I believe it's important that customer service representatives are trained with information about anal play. This will enable them to be more at ease when they talk to customers, and as a result, make adult retail stores a source for sex-positive information. Check out the Anal Play Advice section on bvibe.com, it's an amazing educational resource!
StorErotica: What can you do to be pre-emptive against people engaging in unintelligent anal play?
Alicia Sinclair: As a manufacturer, we try to reinforce education as much as possible. There's some form of education on every page of our website, we release two educational newsletters a month, and highly suggest people check out our Anal Play Advice section on bvibe.com We include the "Guide to Anal Play" with all our products and have begun adding practical product education inside the product manuals. Whenever we interact with media, our mission is to provide comprehensive, sex-positive information and to encourage people to empower their experiences by educating themselves.
Storerotica: Your website is riddle with literature about anal play—was that prompted by your academic background?
Alicia Sinclair: My academic background was prompted by my desire to empower people's experiences with sex toys and with their sexuality in general. I want to inspire people and offer them education and permission to enjoy pleasure.
Also, reducing stigma and fostering a greater understanding of how anal play is pleasurable for all bodies can be achieved through education. If people understood why and how it feels good (instead of having a fear-based connection), they would be more willing to experiment.
SHOP ALL GROOVE'S BVIBE PRODUCTS
Author Credit: StorErotica Magazine Dec 2017 Issue Written by Kevin P on 
Leave a comment