Login
Log in if you have an account
Register
Having an account with us will allow you to check out faster in the future, store multiple addresses, view and track your orders in your account, and more.
Create an account
Arizona Governor Doug Ducey BANS THE SALE OF ALL SEX TOYS!
31 Mar 2020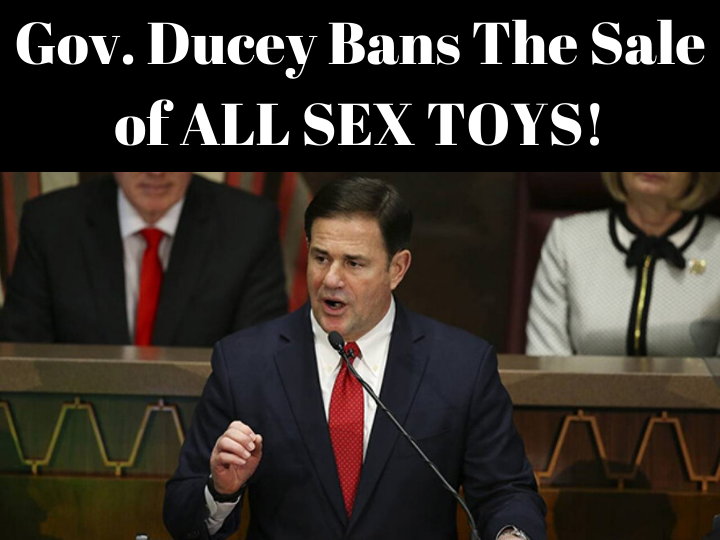 Governor Doug Ducey issued an executive order Monday banning the sale of all sex toys in Arizona. The article referencing the statewide ban is below.
PHOENIX — Arizona's governor issued an executive order on Monday that will make cities, towns, and counties ban the sale of all adult sex toys as of April 3rd.
The executive order states, "any adult items that may be used as sexual devices are to be banned for sale and distribution." It went on to say that, "any items in question as of whether or not they will be used in an inappropriate manner shall be coordinated with the State prior to issuance."
In a press conference, Governor Doug Ducey, issued an executive order that detailed what is considered to be adult sex toys. The governor said he did this in order to provide the citizens, employees, and families across the state with this information. The governor stated the ban is being implemented as a preventative measure against an population explosion.
Governor Ducey went on to say "The fine folks of Arizona are all stuck at home. What the heck do you think they'll be doing? We gotta do something or we'll have new babies totally overwhelming Arizona hospitals in January. The first step is take away the sex toys. Then we're gonna coordinate with local broadcasters to repeatedly play the last five minutes of Super Bowl XLIII. That should take the starch out of the game so to speak."
When reporters asked what other executive orders may be on the horizon, Governor Ducey said information "would be made available shortly", but would not indicate more other than to say "it's April first, bitches."
Groove vehemently opposes this heinous executive order BANNING ALL SALES OF ADULT SEX TOYS! This will not stand! We must stand together in protest! No one should be able to tell us that a back massager can't be more than a back massager!
Join Groove in the fight to take back our sex toys!
….Happy April Fools' Day. :) Be safe and stay healthy.
Leave a comment