Login
Log in if you have an account
Register
Having an account with us will allow you to check out faster in the future, store multiple addresses, view and track your orders in your account, and more.
Create an account
10 Instagram Couples Giving Us Relationship Goals
08 Jun 2018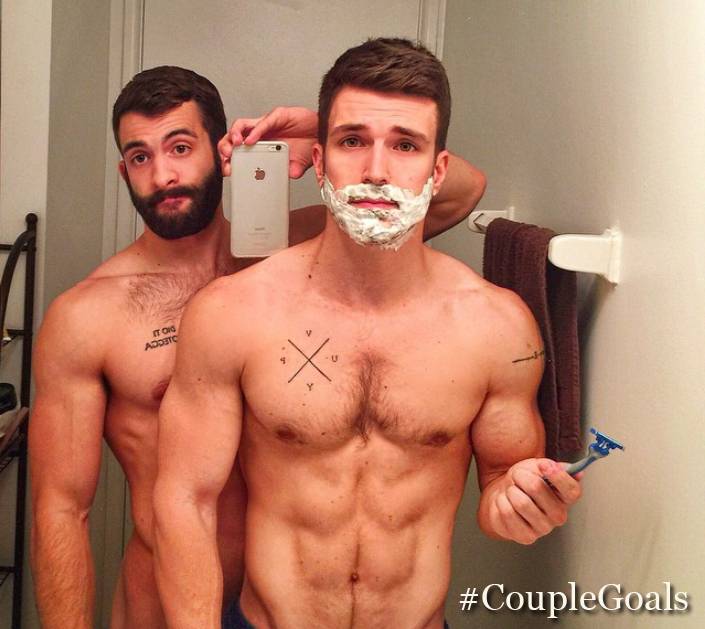 Article Credits: Retrieved from NewNowNext.com
Article Written by: Joey Parker
As cuffing season is upon us, and many of us are still on the hunt for our dream boo, we thought we would share a few Instagram couples who constantly inspire us with their relationship.
While many use Instagram to show off their latte art and perfectly-posed outfit selfies, it's nice to see a little true love pop up on our feed once in a while. As much as we want it for ourselves, it's inspiring to at least see that it really is out there.
Here's a look at ten of our favorite Insta-couples serving us relationship goals.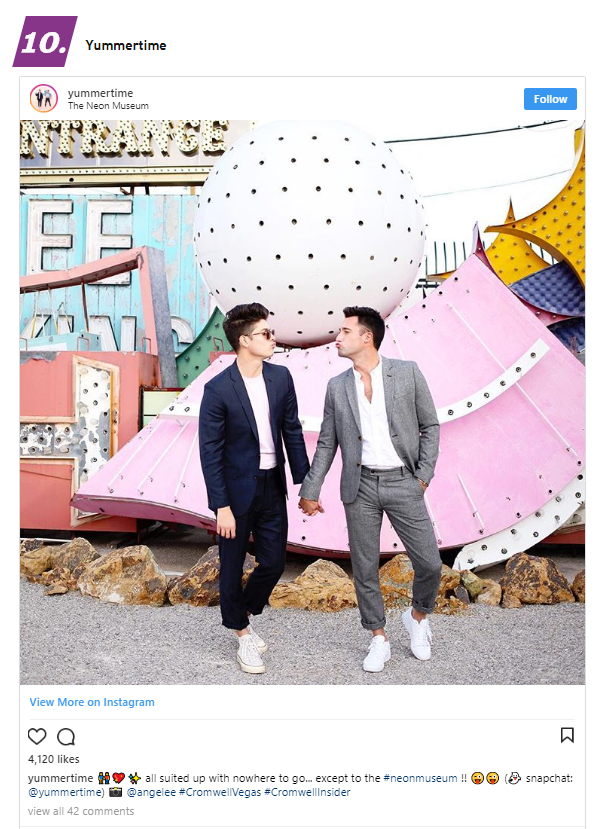 San Francisco based couple Brock and Chris are the two lovebirds behind the lifestyle blog Yummertime. Not only is their blog beautifully curated, but we also have to give them major props for their just-too-perfect Instagram account.
When we asked Brock and Chris the inspiration behind their website, they told us, "We basically spend every minute of every day together, so why not document it? We look at Yummertime as our life and lifestyle, all wrapped up in one — like the perfect burrito."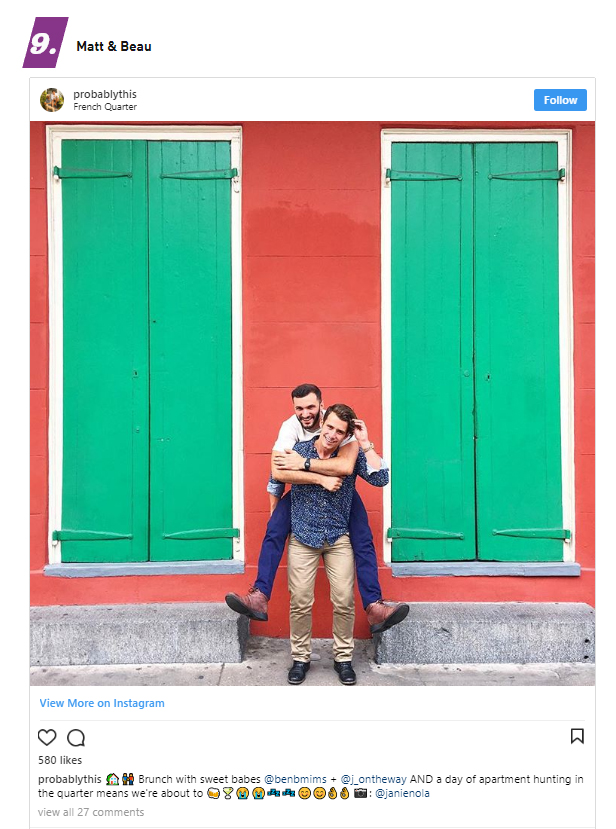 Similar to Yummertime, New Orleans couple Matt and Beau of Probably_This also share a combined Instagram account used to show off their lives. As massive foodies, we love following Matt and Beau to see what delicious dish they will post next. Not only do the food photos instantly make us hungry, but they are so beautifully photographed too. Oh, and their pup, Fox, occasionally makes an Insta appearance as well. So adorable!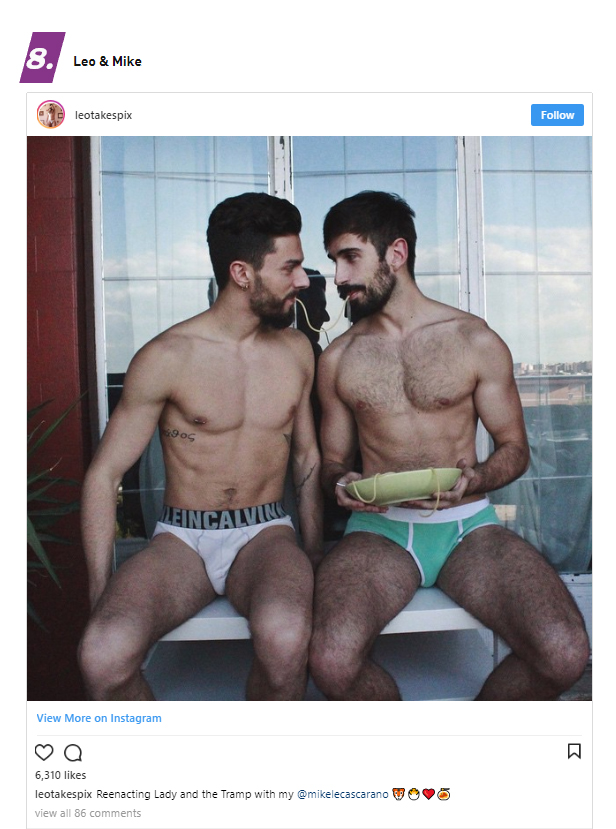 With a total of 170k followers between them on Instagram, these two seem quite inseparable. Not only are they rarely photographed apart, but they may also take the win for the cutest peaches, aka cake, aka JUST LOOK at da booty on their feed! *Fans self.*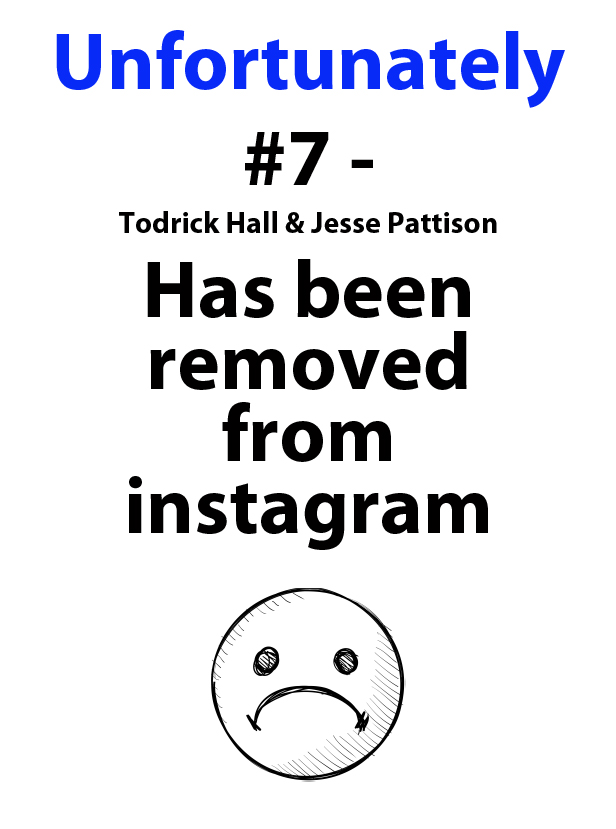 Whenever a photo of Todrick and Jesse pops up on the 'gram, you can't help but want that type of love. Are we right, or are we right? In a recent post about Jesse, Todrick wrote, "This man makes me melt every time he looks at me, he makes me laugh every day, he takes care of me when I'm sick, he cheers me on when I succeed, he holds my head up when I fail, he tells me when I'm wrong, he admits when I'm right (which is always ?)." Gotta love how cute these two are together!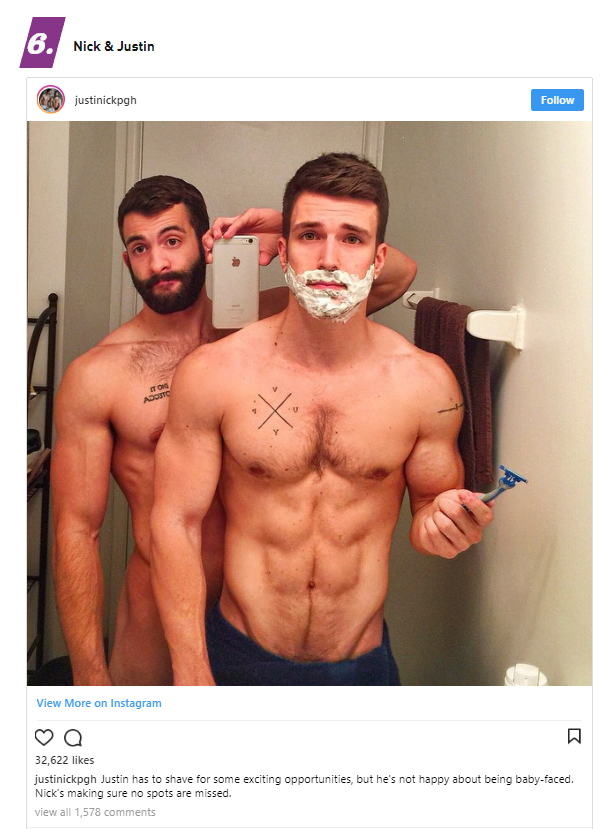 If Pittsburgh couple Nick and Justin were an emoji, they obvi would be the smokin' hot flames. Nick is a former gymnast who is now studying at graduate school, while Justin is doing all sorts of important environmental work for the local government.
We caught up with these two earlier this year, and they gave us some advice on how to whip up bodies like theirs. Nick revealed, "We cycle between chest, arms, back, and legs, then we have at least one day of active recovery by going to the park, biking or playing racquetball." So, there you have it! We know what we will be doing tomorrow.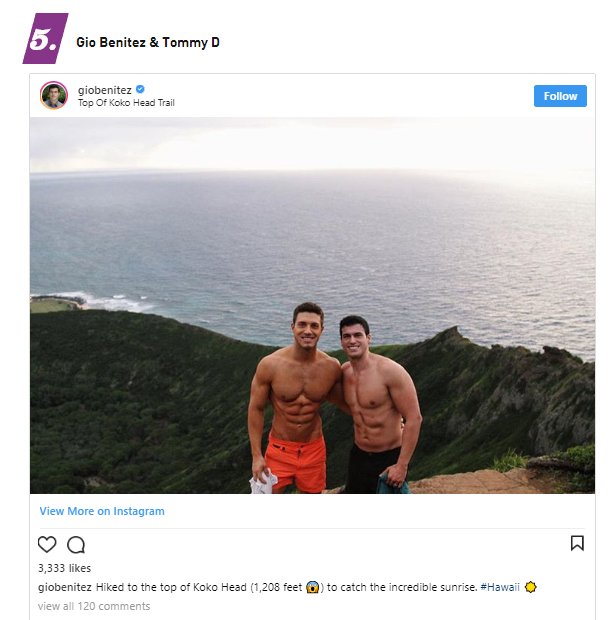 Gio and Tommy are quite the little power couple. From Gio working as a correspondent for ABC News and Good Morning America, to Tommy modeling and acting, these two are quite the handsome hustlers. And we can't forget to mention they got engaged this past September in Paris. Such exciting times ahead for these two!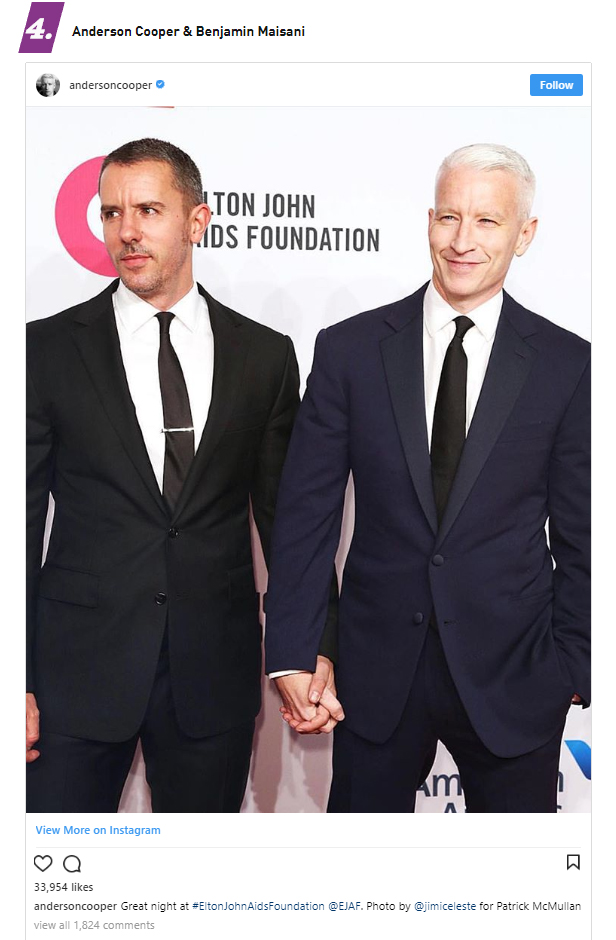 We can't get enough of Coop! This past November, the world watched as Anderson and his partner, Benjamin, publicly held hands for the first time while walking the red carpet at an event in New York City. Since these two rarely make public appearances together, this was a bold and beautiful moment.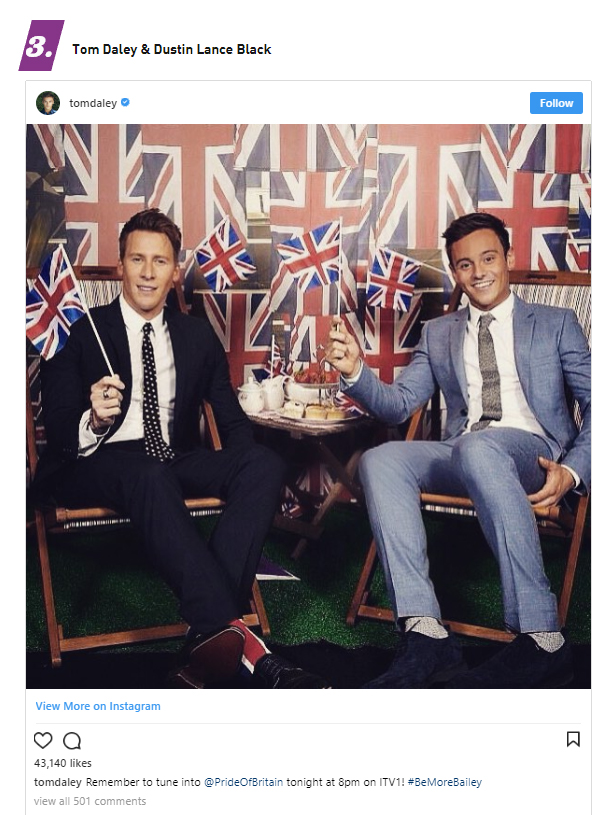 While many of us wish we could end up with Tom, we are excited for the Olympian and Dustin on their engagement, which they announced this past October. These two have been dating for over two years now, and seem to be stronger than ever.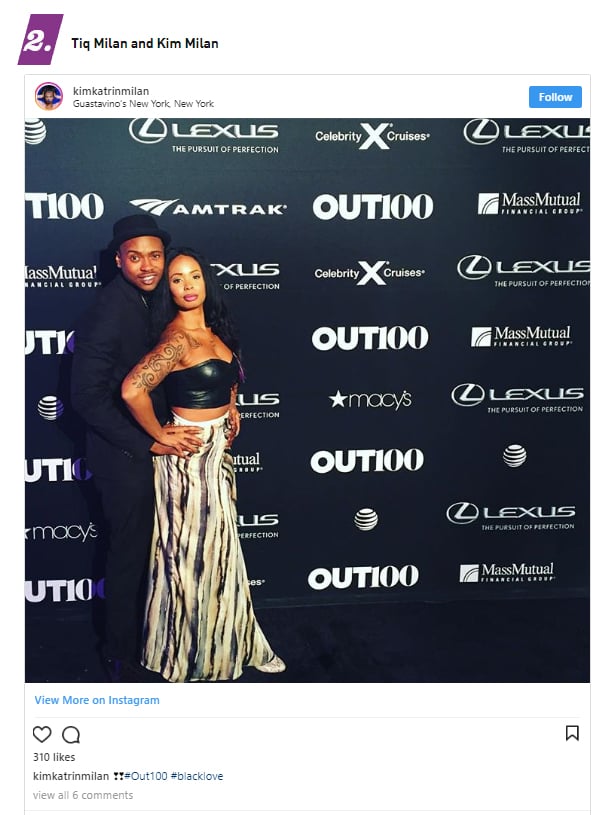 If you aren't familiar with Tiq and Kim, you should be. Tiq is not just a journalist, but a massive voice for the transgender community. Along with that, he's a proud husband, married to the stunning Kim. When we spoke with him, he offered advice to those who may be too scared to come out to their families. Tiq shared, "Be confident in yourself and who you are and let them know that you are inviting them into a part of your life that's amazing, complex and beautiful. Give them space to process. They probably will have awfully awkward questions, but that's okay at the beginning."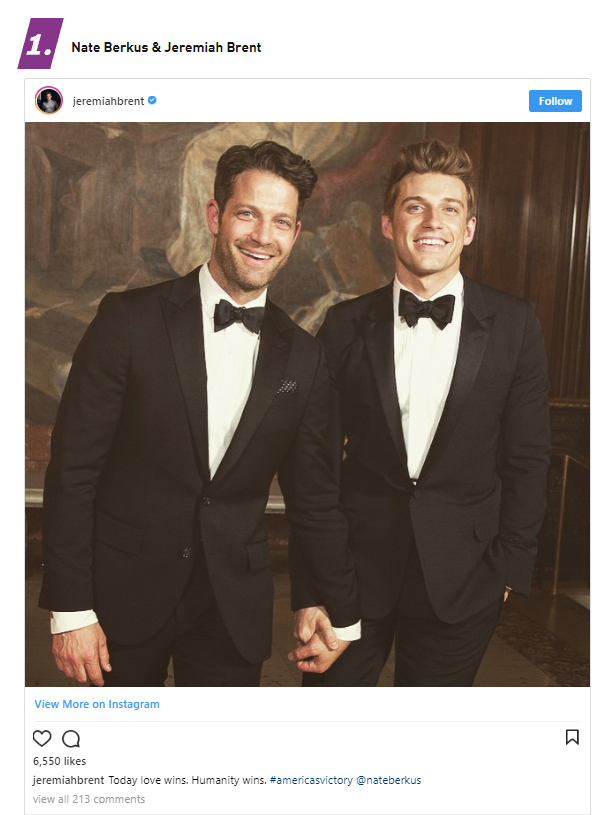 With a brand new adorable baby girl, Poppy, Nate and Jeremiah are setting such an inspiring example for the world. After marrying in 2014, these two have shared their journey every step of the way on Instagram, one photo at a time.
Leave a comment